Resources
- Blog
What Is an E-Marketplace?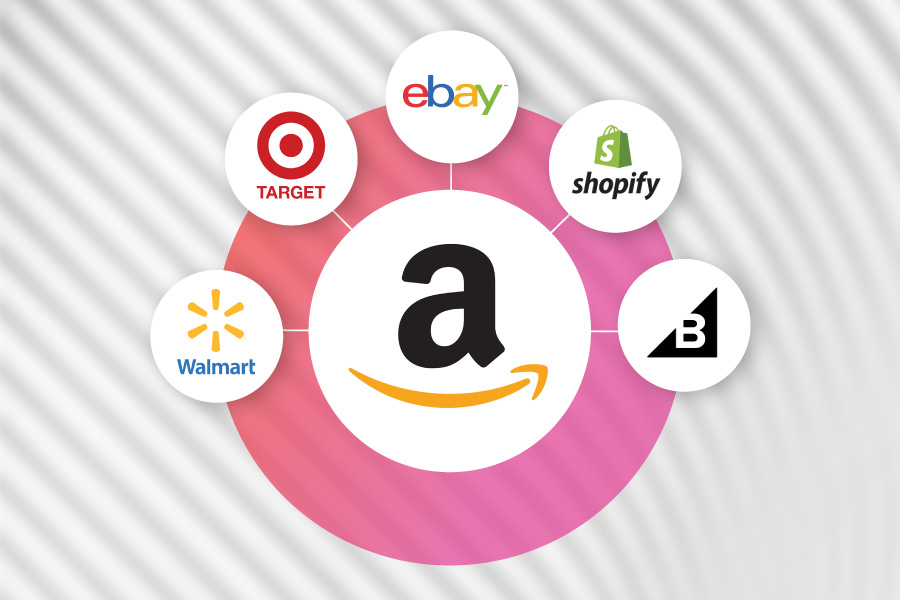 Stay on top of the latest e-commerce and marketplace trends.
In today's digital world, one might consider online marketplaces and e-commerce websites to be synonymous. From a general consumer's standpoint, they are both platforms to browse and purchase products online for delivery. 
Yet, there are several distinct differences when it comes to the operational and marketing aspects that brands and retailers must consider when planning their online strategies or channel expansion. 
Below, we break down the definitions of e-commerce platforms and online marketplaces, the benefits and drawbacks of each, and the key factors to keep in mind when developing your business's online selling strategy.
Explore An AI-First Amazon Advertising Optimization Solution
E-Commerce Platforms
E-commerce, or electronic commerce, embodies the transaction of money and data in exchange for goods or services via the internet. The term is often used to refer to the sale of physical products online, but it can also refer to any kind of commercial transaction that is facilitated digitally.
Indeed, e-commerce can leverage several types of platforms — such as websites, mobile apples, and voice assistants — and can take on a variety of forms:
Retail:

The sale of a product by a business directly to a customer without any intermediary

Wholesale:

The sale of products in bulk, often to a retailer that then sells them directly to consumers

Dropshipping:

The sale of a product that is manufactured and shipped to the consumer by a third party

Crowdfunding:

The collection of money from consumers before the product is available in order to raise capital to bring it to market

Subscription:

The automatic recurring purchase of a product or service on a regular basis

Physical products:

Any tangible good that requires inventory to be replenished and orders to be physically shipped to customers

Digital products:

Downloadable digital goods, templates, or media that must be purchased for consumption

Services:

A skill provided in exchange for compensation
From a retail standpoint, an e-commerce platform — also called a single-vendor platform — is a single or multi-brand online store where a specific brand sells its own products. The inventory is owned by the brand, or platform owner, who charges the customer and pays the value-added tax, similar to a standalone, brick-and-mortar retail store such as Lululemon or Casper. There is no option for other brands, sellers, or retailers to register to sell on the e-commerce platform.
The top online marketplace accounted for 57% of global web sales in 2019.
E-Marketplace Platforms
On the other hand, an e-marketplace is an online platform that connects buyers and sellers, allowing third-party sellers to market and sell their products on the platform and invoice the customer for a purchase directly. It is a segment of e-commerce in which the marketplace owner does not own the inventory or invoice the customer for a purchase. Rather, the e-marketplace serves to present other sellers' inventory to a consumer and facilitate a transaction. 
Amazon and eBay were among the first e-marketplaces, birthed in the mid-1990s when the internet was gaining mainstream traction. In today's digital-first world, e-marketplaces are disrupting the e-commerce landscape, with Amazon at the forefront. Amazon and Walmart, specifically, are examples of hybrid e-marketplaces, as they offer their own products and products of other brands and third-party sellers.
The top online marketplaces in the world sold a whopping $2.03 trillion in 2019, and sales on e-marketplace sites, like those operated by Alibaba, Amazon, eBay and others, accounted for 57% of global web sales in 2019, according to an analysis by Digital Commerce 360.
Indeed, shoppers are drawn to the "one-stop shop" convenience of e-marketplaces, where they can search, browse, compare, and purchase countless products across a wide variety of brands and product categories rather than visiting different standalone e-commerce websites to shop brands individually.
In Feedvisor's Amazon Consumer Behavior Report, 89% of respondents agreed that they are more likely to buy products from Amazon than other e-commerce sites. Walmart (52%) and eBay (43%) ranked highest among the other websites consumers said they shop on — compared to retailer websites (38%) and brand websites (21%) — indicating the dominance of e-marketplaces across all e-commerce channels.
89% of consumers are more likely to buy products from Amazon than other e-commerce sites.
The Benefits of E-Marketplaces 
E-marketplaces offer a more convenient shopping experience to discover, compare, and purchase products from an array from brands on a single platform. They provide shoppers with a wide variety of products compared to a single website, and help consumers find the most reasonable price for the best-quality product they are looking for.
Given the quantity of sellers operating on marketplaces, prices are often lower than in-store or standalone e-commerce websites, as sellers are often competing on price to win the conversion. You can improve your organic sales by using an AI-based pricing technology that responds to market conditions and competition levels to optimize your product prices in real time according to your business objectives. In addition, e-marketplaces collect troves of feedback from customers, such as product reviews, which allows them to curate an assortment that will best appeal to shoppers' needs. 
For sellers and brands, e-marketplaces offer numerous benefits to their business: 
Reach:

Smaller sellers or vendors who might not have the resources to establish their own e-commerce website can align themselves with an established e-marketplace to gain visibility and scale their reach through expanded fulfillment options. This can include overseas expansion, given opportunities to sell on international e-marketplaces.

Revenue:

An e-marketplace serves as an additional sales channel to market and sell products, providing a level of increased revenue to sellers and brands.

Customer acquisition:

Operating on an established e-marketplace puts your brand and products in front of a vast audience of shoppers who already frequent the platform to make purchases. 

Rapid delivery:

For brands and sellers who do not have their own fulfillment and warehouse capabilities, they can leverage an e-marketplace's fulfillment services to store, pack, and ship their products, often with rapid delivery options that entice consumer purchases and loyalty.

Customer service:

For brands and retailers who leverage an e-marketplace's fulfillment services, such as Amazon FBA, the e-marketplace handles not only the delivery of the product but also customer service, including exchanges or returns.
Challenges of E-Marketplaces 
Certainly, there are also several challenges associated with selling on e-marketplaces. Because the products are offered from many third-party sellers, delivery speeds can vary, causing confusion for the consumer, compared to a brand or retailer e-commerce site, which would offer the same delivery options across the platform.
In addition, the information provided about those products can have discrepancies across third-party sellers, resulting in a poor shopping experience and potentially damaging a brand's reputation. Plus, the vast number of merchants that sell on e-marketplaces causes intense competition to win conversions. 
From pricing to organic ranking to advertising and more, competition is increasingly intensifying, and brands and sellers must invest time and resources into maintaining a competitive edge while also appealing to their customers.
Final Thoughts
To run a successful operation on an e-marketplace today requires an advanced technology platform to automate operational processes and optimize marketing performance to ensure your prices are competitive, inventory is replenished, and advertising is optimized to maintain market share, increase visibility, and drive conversions at profitable prices.
To learn more about how Feedvisor's next-generation, AI-powered platform can help optimize your business while you scale, get in touch with us here.
Learn what Feedvisor can do for your business.
When you partner with Feedvisor, you automatically receive access to our true, AI-driven technology and hands-on team of e-commerce experts. Contact one of our team members today to learn more about our end-to-end solution for brands and large sellers on Amazon, Walmart, and e-marketplaces.